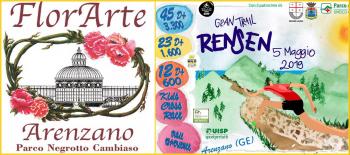 Spring in Arenzano
In addition to the many markets that will brighten the streets of the town, absolutely not to be missed this spring are:

The 20th edition of FlorArte , at the Parco Negrotto Cambiaso, from 24 to 28 April, where the works of art of the Masters of Arenzano will inspire for beautiful floral arrangements.
There will be many parallel events: concerts in the beautiful scenery of the Park, market exhibitions, treasure hunts, guided tours and many events dedicated to living green.
in short, an opportunity not to be missed to get to know Arenzano better.

The 9th edition of the Great Trail Rensen, which will take place on Sunday 5 May in the beautiful trails of the Beigua UNESCO Global Geopark.
Many paths dedicated to walkers, to put themselves to the test,
in a unique and pristine environment, where the mountains face the sea and breathtaking landscapes will surprise you at every step !!!
SEE ALL
What customer
says about us?
---



Tel.

+39 010 6199673

/

+39 010/6199672

- Fax

+39 010/6199686

- P.Iva 01643950999
Privacy Policy
Credits TITANKA! Spa © 2017